Jo Dereske's Summer, 2011 Newsletter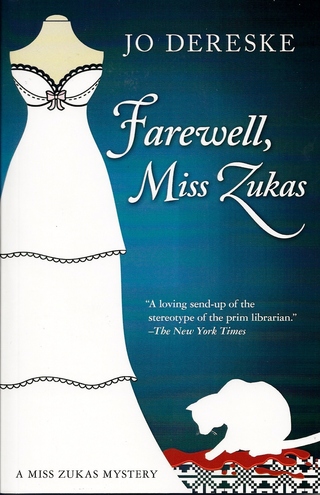 June 13, 2011
Happy Summer! I'm tremendously pleased to present
FAREWELL, MISS ZUKAS
to you. It's now available in trade paperback from
Amazon
and other bookstores, and will be available as an ebook in Kindle format by the end of June.
~ As many of you know, I hadn't planned on writing a twelfth and final Miss Zukas mystery, but many readers felt Helma's story was unfinished, and after a while, so did I. In the meantime, as our economy slipped into disarray, so did the publishing world. Many factors contributed to my decision to bypass traditional publishers and shepherd Miss Zukas into print independently, but ultimately it was the decision that made the most sense. More control, more freedom, more appealing – ahem - royalties. What a learning experience! I began my own imprint: June Creek Books, and it's been such fun I'm looking into future possibilities. We live to learn, and so I guess I'm living large!
~As I write this, the wild roses (late this year) are blooming along the roadsides. I walk a lot and their fragrance is a heady perfume. Our summer is depressingly late, although I know many of you have been battling major heat. I wish you at least a few lazy, crazy days of summer! jo
Signing
at Seattle Mystery Bookshop at noon on Wednesday, July 20.
Facebook Newbie
I have a Facebook Author Page now. Take a look (I'm having trouble imbedding the link into the newsletter - sorry!). I'll update it between my quarterly website updates, and am open – make that eager - for ideas to improve it.
The Avon Breast Cancer Walk
I'm participating in the
Avon In It To End It
walk in Santa Barbara, California on September 17 and 18. A full marathon on the 17th and a half marathon on the 18th.
~ My mother died of breast cancer. Maybe someone you loved did, too – certainly all of us have been touched by this disease in one way or another. I'm no great athlete (nor am I young!) so I'm already training and intend to complete both walks in September. This will also be my first trip to beautiful Santa Barbara.
~ The walk is a fundraiser and as I've promised, I'll never send you anything but my newsletter, though I'd love it if you'd stop by my
personal page
on the Avon Foundation website. I'll be adding names to a race bib I'll be wearing so if you'd like me to carry the name of someone you know affected by breast cancer, the details are on my
personal Avon page
.
GLOM GLOOM Takes a Trip
Linda, a reader in Canada, took advantage of my offer for a free copy of GLOM GLOOM, even kindly sending extra money to cover postage to that far country (actually two miles from my house). I happily sent it off in March. The end of March came: no GLOM GLOOM in her mailbox. April came: nothing. Finally, on the last day of May, Glom Gloom arrived on her doorstep. Written on it was the message: "Missent to India." Now who says we don't get our money's worth for our postage?!
Writing Page
Go to
my website
and click on WRITING at the top of any page for some thoughts on self, or, independent-publishing.
Good Reads
Helma just finished IN THE GARDEN OF BEASTS, Erik Larson's fascinating account of William Dodd, the US ambassador to Hitler's Germany in 1933. Dodd, a university professor and one of the few US ambassadors NOT independently wealthy, and his decidedly wild daughter, Martha (secretly married and fresh off an affair with Carl Sandburg) are the focal points of this meticulously researched history. A page-turner.
~Ruth is reading THE CENTER OF EVERYTHING, by Laura Moriarty, a hilarious, wise, and heartwrenchingly real story of growing up in a fractured household. If that sounds contradictory, it is.
Thank you for subscribing to my newsletter. Visit my webpage at jodereske.com or stop by Facebook.