News Bit for Hallowe'en, 2013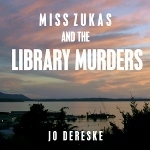 October 25, 2013
Miss Zukas Now in Audiobook
The audiobook version of the first Miss Zukas mystery:
Miss Zukas and the Library Murders
is now available for purchase. To listen to a five-minute sample, visit my
website
.
You're going to love the smooth voice of narrator
Crystal Sershen
of Femme Vocale.
Purchase
Miss Zukas and the Library Murders
in audiobook download today through
Audible.com
, Amazon.com, and
iTunes
.
If you enjoy this first audiobook of the 12-part series, please post a review on the site you purchased it from or let me know - we'll do more!
Happy Hallowe'en. Please keep writing. I'll always answer.
All Best,
jo
p.s. Please forgive if my organization is wonky . I'm writing this "blind" from outside the U.S.