Bio/Promo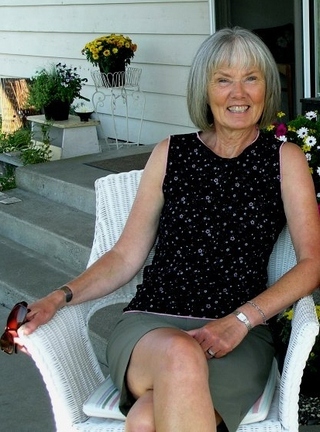 I've lived in Northwest Washington State for more than 40 years but grew up in rural Mason County, Michigan. I longed to be a writer but as a child believed it was impossible since I didn't live anywhere near New York City. I left Michigan and headed west after college, positive I was destined to write about the wider, more exotic, world. But curiously, nearly all my books and short stories either have a connection to, or are set in, Michigan.

My first books: Glom Gloom, The Lone Sentinel, and My Cousin the Poodle, (Atheneum) were written for my two children. Since then, I've written twelve books in the Miss Zukas (Avon/Harper) mystery series, and three books in the Ruby Crane (Dell) mystery series.

I've drawn heavily on my Lithuanian heritage and my love for the oddities of the Library world for the Miss Zukas series. Forgery, always an interest since I forged my first absence excuse in fourth grade, figures heavily in the Ruby Crane series.

I now live in Washington State.
-------------------------------------------------------
Promotional Info - Jo Dereske


Jo Dereske is the author of seventeen published books: two mystery series and three books for young people. Farewell, Miss Zukas, published in June, 2011 by June Creek Books is the twelfth and final Miss Zukas mystery, set in the fictional town of Bellehaven, Washington. In Farewell, Miss Zukas, Chief of Police Wayne Gallant finally pops the question, only to be interrupted by robbery and murder involving Helma's mother and aunt. At the center of this crime: Aunt Em's mysterious Lithuanian carving.


The New York Times called the Miss Zukas series, "a loving sendup of the stereotype of the prim and proper librarian." The Toronto Sun said, "You're in for a good time."


Her books have been on numerous bestseller lists, including BookSense, Amazon and several individual bookstores. Bookmarked to Die spent two months as the number one paperback on the nationwide Independent Mystery Booksellers Association' bestseller list. Catalogue of Death also received the number one honor.

Jo has taught in the University of Washington Creative Writing program, and spoken at the Library of Congress in Washington, DC as part of the Judith Austin Memorial Lecture series. She also teaches writing workshops and speaks at events. She has received an Artist Trust grant, the Bellingham Mayor's Arts Award, and been nominated for several awards

Jo lives in Lynden, Washington and her website is www.jodereske.com
-----------------------------------------------------------------


Kugelis Lithuanian Potato dish - the Miss Zukas version

In every Miss Zukas mystery, there is mention of kugelis, a traditional Lithuanian potato dish. Miss Zukas craves it, as do I! It was a prized dish at family gatherings and every cook had a favorite recipe – often not shared. Preparation's a bit time-consuming but the results are wonderfully greasy and fragrant, as well as shockingly satisfying. This family recipe is in Miss Zukas Shelves the Evidence (Avon/HarperCollins, 2001).


Kugelis Preparation time: 45 minutes, plus 1 hour baking time. Serves 6 -10

5 lbs white potatoes, peeled (Idaho or "old" potatoes work best)
12 oz. can of evaporated milk (not sweetened!)
½ to 1 lb. bacon, chopped, with grease
½ large onion, chopped
2 tsp. salt, or to taste
4 eggs

1. Grate potatoes (There is a traditional wire grater, one friend uses a sausage grinder, another grinds a potato at a time in a blender – but don't turn to mush! There is also an electric potato grater for die-hard kugelis devotees. Metal graters have too large a grate.)

2. Fry bacon and onion – you can do this in the same frying pan if you start the bacon first.

3. Combine potatoes, bacon, bacon grease, onion, salt and eggs and mix thoroughly. Stir in evaporated milk

4. Pour into a greased 9x13 pan.

5. Bake at 400 degrees for ten minutes, then lower temperature to 350 degrees and bake for 1 hour or more, until golden brown and paring knife comes out clean.

Eat in slices, hot, with sour cream, but the traditional way is to cool the kugelis in the refrigerator for a day, then slice and fry it in more bacon grease until crispy on the edges. Serve with sour cream or even MORE fried bacon and onions. Pass the cholesterol meds!