Welcome!
Praise for the Miss Zukas Mysteries:
"Jo Dereske's Miss Zukas is a loving sendup of the stereotype of the prim librarian."
........New York Times

"You're in for a good time."
. . . . . . . . . . . . . . The Toronto Sun
"Dereske...has hooked thousands of readers with her tales of the ultra-organized, ever-logical librarian."
. . . . . . Michelle Nolan, Bellingham Herald

****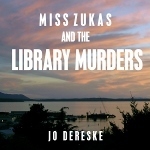 Miss Zukas also in Audiobook


You're going to love the smooth voice of narrator Crystal Sershen of Femme Vocale.

Purchase Miss Zukas and the Library Murders in audiobook download today through Audible.com, Amazon.com, and iTunes.

If you enjoy this first audiobook of the 12-part series, please post a review on the site you purchased it from or let me know - we'll do more!

What's Available in Ebook Format
All twelve Miss Zukas mysteries are on the Amazon Kindle. and the Nook ...All three Ruby Crane mysteries. ...And two of my three young peoples' books originally published by Atheneum: GLOM GLOOM, a fantasy, and THE LONE SENTINEL, a science fiction.
For those who've asked about the difference in prices of the Miss Zukas mysteries, it's because prices are set by my publisher, Avon/HarperCollins for the tenth and eleventh titles.

****
The Miss Zukas mysteries, in order of appearance:

1. Miss Zukas and the Library Murders
2. Miss Zukas and the Island Murders
3. Miss Zukas and the Stroke of Death
4. Miss Zukas and the Raven's Dance
5. Out of Circulation
6. Final Notice
7. Miss Zukas in Death's Shadow
8. Miss Zukas Shelves the Evidence
9. Bookmarked to Die
10. Catalogue of Death
11. Index to Murder
12. Farewell, Miss Zukas
****
The
Ruby Crane
mysteries, in order of appearance:
1.
Savage Cut
2.
Cut and Dry
3.
Short Cut
****
"As I have said elsewhere, one doesn't suddenly become a good writer. No matter how much innate talent one has, skills must be developed and sharpened by practice . . . a writer never knows enough and is never good enough."
Louis L'Amour
****
~Last updated: 7/10/2020~